Party buses are a great way to travel in comfort and style. They're also perfect for weddings, proms, sporting events, birthdays and more. Party buses are available in a variety of sizes and styles to accommodate both small and large groups of people. So whether you need to transport your wedding party or your entire extended family on the road for an important event, we have the vehicle for you!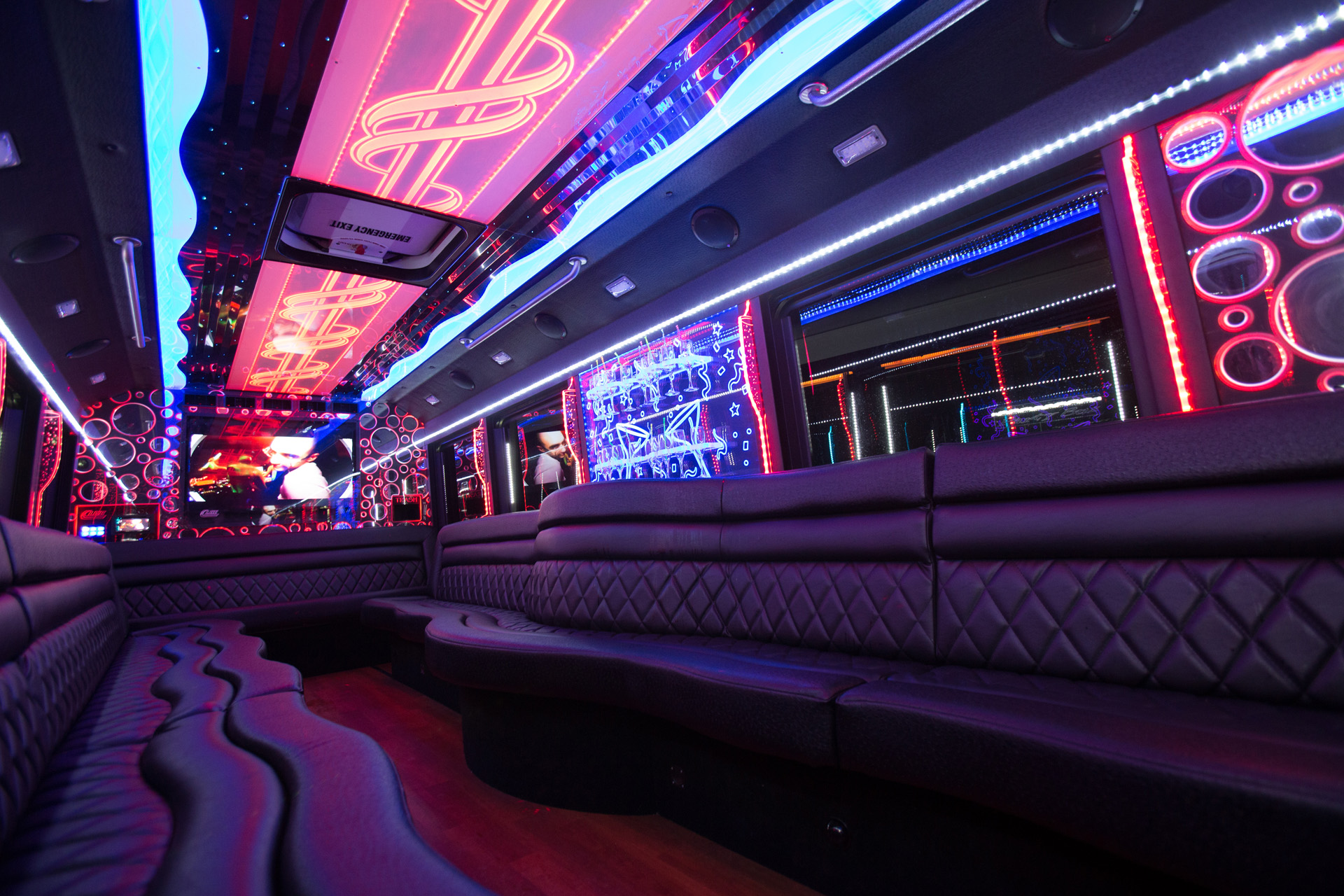 Party Buses and Limousine Buses
Party buses and limousines are two great ways to travel. Whether you're looking for an exciting night out with friends, or a more luxurious way of getting from point A to point B, these vehicles will make your trip a memorable one. Parties are always better when you're on a party bus! If you want fun and excitement during your travels, then this is the vehicle for you. Party buses are perfect for bachelor parties, birthday celebrations and more! If you want to go all out and make your party bus experience truly memorable, then it's time to start planning your next trip. Limousines are perfect for any special occasion. Whether you're heading to prom, a wedding or just looking for a way to make your night out extra special, this is the vehicle for you!
Limo & Bus Rental Prices in Montgomery
| | |
| --- | --- |
| Vehicle | Rental Pricing |
| 6 Passenger Limo | $110-$145 hourly* |
| 8 Passenger Limo | $120-$155 hourly* |
| 12 Passenger Limo | $125-$165 hourly* |
| 18 Passenger Minibus | $140-$170 hourly* |
| 20 Passenger Party Bus | $150-$200 hourly* |
| 25 Passenger Party Bus | $160-$220 hourly* |
| 30 Passenger Party Bus | $180-$260 hourly* |
| 30 Passenger School Bus | $145-$240 hourly* |
| 50 Passenger Coach Bus | $150-$240 hourly* |
| 56 Passenger Charter Bus | $150-$260 hourly* |
*Prices vary greatly depending on the city and state of your service. Due to COVID-19, rental prices shown in past estimates may not reflect actual pricing which may be significantly higher depending on availability.
Why Choose Montgomery Limos Alabama?
We are a local family owned business that has been in business for over 10 years. We have a fleet of luxury vehicles and we have a great reputation in Montgomery, Alabama. We offer 24/7 customer service so you can call us anytime if you need help or need to make changes to your reservation. We have many different types of vehicles in our fleet to fit your needs. We offer Lincoln Towncars, Mercedes-Benz Sprinter and Ford Excursions.
Party Bus Pricing Explained
Size of the party bus – The larger the party bus, the higher the hourly rate. This is because it takes more time to get everyone on board and settled in so that you can hit the road. Length of rental – The longer you are renting a party bus, the lower its hourly rate. This is because there are fewer stops during this type of rental which means less time is spent getting into and out of cars or making pit stops along your journey (plus, if it's a long trip, there are fewer chances for people to get carsick). Number of passengers – In general, when you have more people on board your private vehicle than usual (i.e., they aren't all friends), expect to pay more per hour than if there were only two passengers in each car seat instead of three or four together at once! There's no reason why our drivers should suffer through less leg room just because they're doing us a solid favor by driving instead! Their comfort matters too!
Sprinter Limo Rentals
The Sprinter limo is available in several different sizes. Our most popular package is the 20 passenger Sprinter, which is great for large groups or bachelor parties. It can also be rented for weddings, sporting events and airport transportation. We are located in Montgomery and can deliver it to you wherever you need it! Pricing is based on the size of your party bus, which in this case is the number of people in your group. If you're looking to rent a limo sprinter, we can help you get the right fit. If you want to spend more time on board than driving around town, we offer a variety of packages that include things like private tours and winery visits (these are just a few). We are happy to work with you to find something that fits your needs best!
First Class Service
We offer a first class service that no other party bus company can match. We are the best in the business, and we know it. That's why we offer a 5 star luxury service, which is more than just a regular limo or executive bus service. Here at First Class Party Bus Rentals, we want you to have an incredible time on your tour of Montgomery, Alabama. That's why we offer something that no other party bus company can: 5 star services! Whether you want us to drive your group around town or take everyone out for drinks at some popular local hotspots, our vehicles are equipped with everything needed for an unforgettable night out on the town.
Executive Party Bus Rentals
If you are looking to rent a party bus in Montgomery, Alabama we have the perfect vehicle for you. We offer exquisite executive party buses that can accommodate any group of up to 25 guests. Our executive buses provide you with all the amenities and comforts you need for an unforgettable night out on the town. The first class service provided by our expert staff makes planning your event easy and stress free. You can book online or give us a call during business hours or send us an email anytime. We also offer various packages tailored specifically to suit your needs. Some of these include: The VIP Package – This package includes two hours on one of our luxury limousines complete with two bottles of champagne and glasses included in the price! Prices start per hour depending on number of passengers. The Best Value Package – This package includes one hour on either one limousine or party bus rental complete with four bottles of champagne and glasses included in price! Prices start per hour depending on number passengers.
Services We Offer
Airport Transportation and Transfers-We provide a wide range of airport transportation services. Whether you require a simple ride to or from the airport or want to be picked up in style with a limo or party bus for your wedding transfer, we've got you covered! Our fleet includes both luxury sedans and minivans as well as motor coaches. Bus Shuttle for Wedding Transfers-You can enjoy the ease of having someone else do all the driving when it comes time for your wedding day transfers—and we'll make sure that everything runs smoothly at every step along the way! We offer several different options including door-to-door service in luxurious limos, as well as school buses equipped with comfortable seats and DVD players so kids won't get bored on long trips. Plus, we'll even help out with setting up tables and chairs if needed! Sport Teams & School Trips-No matter what kind of group transportation needs you have—whether it's taking an entire sports team, their parents and coaches on an away game trip or shuttling students back home after prom night—we've got exactly what you need! Our fleet includes mini buses perfect for big groups traveling together; however if there are more people than that then our charter buses will work great too (maximum capacity varies depending on which type).
Steps To Rent Your Bus
When you're ready to tour Montgomery, Alabama in style, all it takes is a few simple steps. Find a bus rental company. There are many to choose from around the country! Choose a bus that fits your needs and your budget (big or small). Book your trip by calling the company directly or filling out their online form on their website – no need to worry about reserving seats because we have plenty of room for everyone! Pay for all of it using our secure payment system whenever you're ready – just make sure that any payments are made at least 24 hours in advance so there's enough time for everything else (we work fast!). Enjoy an unforgettable experience with friends and family exploring new places together while reliving old memories along the way back home afterwords when we drop off everyone safely at their homes without any hassle whatsoever!
Downtown Montgomery
If you're looking for a place to explore in Alabama, Montgomery is a great option. The second-most populous city in the state and county seat of Montgomery County, it's also the second largest city in the state. Located on the Alabama River, Downtown Montgomery is rich with history. This historic district includes many sites related to its role as capital of Alabama from 1846 until 1874 and during World War II when it housed troops at Maxwell Air Force Base.
Rosa Parks Museum
The Rosa Parks Museum is an excellent way to learn more about the history of the Civil Rights Movement in Montgomery. The museum is located in the former Greyhound Bus Station, where Rosa Parks refused to give up her seat on a bus, sparking a year-long boycott by African Americans of Montgomery buses in 1955. The museum features displays about that historic event and offers audio tours for both children and adults who want to learn more about this important time in American history. Visitors can also take advantage of free admission to other museums in Montgomery if they purchase a ticket for the Rosa Parks Museum at any city-operated site before leaving.
Alabama State Capitol
The Alabama State Capitol is an imposing neoclassical building in downtown Montgomery. The capitol was designed by William Nichols and built between 1845 and 1851, and it served as the seat of government until 1903 when a fire burned it down. It was rebuilt in its current form over the next two years, with many materials salvaged from the previous structure.
Montgomery Zoo
Montgomery Zoo is a zoo in Montgomery, Alabama. It is home to more than 1,100 animals including giraffes, zebras and lions. The zoo is open year-round! It is owned and operated by Montgomery Parks. It's one of the largest zoos in the Southeast — you'll likely see hundreds of animals during your visit here!
Hank Williams Museum
The Hank Williams Museum is the perfect place to begin your exploration of Montgomery, Alabama. Located at 142 Commerce Street in downtown Montgomery, this museum is dedicated to the life and music of Hank Williams. It is housed in the former First National Bank Building, which was built in 1849 and is listed on the National Register of Historic Places. The museum has exhibits featuring photographs, artifacts from Williams' life and recordings that span his career over several decades (1949–53). The museum also includes a video introduction showing clips from interviews with friends such as Johnny Cash and George Jones talking about their memories of Hank Williams.
Get around in luxury and style with a party bus rental in Montgomery.
Get around in luxury and style with a party bus rental in Montgomery. Party buses are great for bachelor and bachelorette parties, birthday parties, corporate events, school events and weddings. And they're not just for adults: kids have a blast riding around in a party bus too!